Multi coloured Cardigan
Price: £20.00
Product Details
Adriafil Knitcol 100% machine washable Merino wool.
Multi Colour
Wooden buttons
Delivery & Returns Policy
I will endeavour to dispatch your order within 1-2 working days. If not completely happy with item may return in original state within 14 days for a full refund. Buyer to pay postage.
Products for Sale by LEKnits - naturally!
Price: £15.00
Delivery From: £3.80
Delivery & Returns Policy
Baby hat made from natural fibres (merino wool, bamboo or cotton) and lined with cotton jersey fabric. 6months-12months. If you require different size or colour please email with your requirements. (yelselsiwel1954..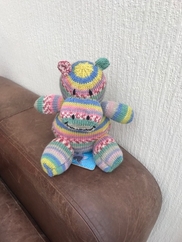 Price: £20.00
Delivery From: £3.80
Delivery & Returns Policy
A Hippo knitted with multi coloured Merino wool and stuffed with organic Kapok. Made to order, please email to discuss requirements. (yelselsiwel1954@gmail.com)