Live Laugh Love Anniversary Engagement or Birthday
Price: £4.99
Product Details
Live Laugh Love Anniversary Engagement or Birthday card.
This large 8x8 inch (20.3 cm's) Each occasion has its own printed insert (verses below).
This white on white card has a heavily embosed mat, a delicate card frame with silver thread overlays the velum sentiment of "Live every moment, Laugh every day, Love beyond words". An embossed card ribbon & bow with a white faux pearl lays along the bottom edge, while gold flourishes curl up to a bouquet of velum decoupaged flowers.
Birthday :-
A birthday wish just for you
On a day when wishes come true
A heartfelt message that brings
A year filled with only good things
Anniversay :-
We send this wish
on this your special day
with lots of love
On your Anniversary
Wedding :-
On this day you will say I do
As you shine with a love so true
Sharing a happy home for life
Hand in hand as Husband & wife
Engagement :-
Congratulations on your engagement
How wonderful for the two of you
We wish you every happiness
Now you've decided to say I do
Delivery & Returns Policy
I accept returns within 21 days of purchase, buyer is responsible for return postage costs.
I cannot accept returns of personalised items
Products for Sale by LisaRose Crafts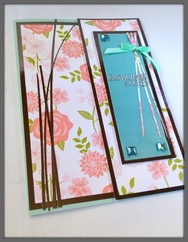 Price: £3.99
Delivery From: £0.00
Delivery & Returns Policy
Unusual unisex get well card with printed verse insert. I started with high quality base card in a delicate spring green. I have used layers of silver mirri card and printed papers to give an unusual..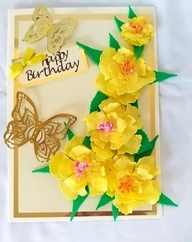 Price: £4.99
Delivery From: £0.00
Delivery & Returns Policy
This card is made from layers of pale yellow and gold mirri card, I have used 5 handmade foam flowers in shades of yellow as the main feature of this ladies card. But I have also used some mirri card..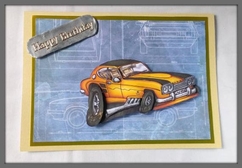 Price: £3.99
Delivery From: £0.00
Delivery & Returns Policy
This birthday card with a vintage Capri decoupage and silver emossed greeting this card measures 21 x 30 cm's 8x 11 inches (when opened)in a landscape design opens from the bottom of the card rather than..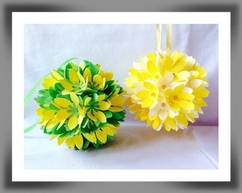 Price: £10.49
Delivery From: £0.00
Delivery & Returns Policy
These pretty hanging decorations are made up of lots of individual paper flowers all attached to a polystyrene ball. The paper flower hanging decorations are available in a selection of colours and..