Little Girls Bag
Price: £5.00
Product Details
Little girls bag, great stocking filler, or fill with sweets and small gifts, choose colour and motif, can be personalised for extra £2 .00
Delivery & Returns Policy
Right to Cancel
Under the new regulations you, the consumer,have the right to cancel anytime from the date your order is placed, up to 14 days after your item has been received unless the order is for a personalised item.
If you wish to cancel your order before you receive your item please contact me at the earliest convenience.
Should you wish to cancel your order after the item has been received please contact me via the page/email. The return postage is the responsibility of the customer and a full refund of the cost of the item including the postage will be issued within 14 days of the item(s) being received by Willow & Me Designs
Reimbursement will be by the same payment method as the original transaction. Return postage will be the responsibility of the consumer. Please note, under these regulations, Willow & Me Designs has the right to deduct from the monies reimbursed should the value of the items be diminished, through the handling of the consumer beyond what is necessary, to establish their nature, characteristics and function.
Post
Postage costs will be dependent upon the size and weight of your order. Proof of postage will be obtained for each item posted and a photo of the receipt will be available for your reference.
Returns
Willow & Me Designs has a 14 day return policy. please make sure you contact Willow & Me Designs directly if you are unhappy with your purchase or you would like to return an item and I will do my best to help.
please note you are responsible for paying for the cost of returning goods. Personalized goods are non returnable unless faulty. please obtain a unique returns number from us before returning any items as we will only refund authorised returns with returns numbers.
Your Legal Rights
When you buy from a business you have a number of rights as a consumer by law. These include the right to claim a refund/repair/replacement under the Sale of Goods Act 1979 where the goods are faulty or incorrectly described. The excludes situations whereby the item has suffered accidental damage,misuse or he effects of reasonable wear and tear
It is the responsibility of Willow & Me Designs to ensure that you receive goods that meet your consumer rights. if you have any concerns that your consumer rights have not been met, please contact me.
Products for Sale by Willow & Me Designs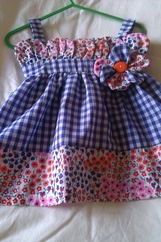 Price: £20.00
Delivery From: £1.20
Delivery & Returns Policy
Handmade baby girls dress, 3-6mths Can be made to order up to age 12mths