Keto Fat Bombs
Price: £11.00
Product Details
Keto low carb chocolate fat bombs are an excellent and tasty treat to have as an any time snack or a dessert. Who says you can not have chocolate when dieting.
These hand-made unresistable morsels contain only two ingredients, sugar-free chocolate and almond butter ganache. Once mixed and moulded to shape, are then coated with sugar-free dark chocolate.
They are sold in a gift box of 12 fat bombs.
Spoil yourself, you no longer have to watch enviously others enjoying chocolate, you also can satisfy the taste buds.
To ensure the freshness these are made to order, so please allow 5 working days to despatch.
They can be stored in a cool dry container, not in the fridge, for up to 2 months.
Delivery & Returns Policy
Items are despatched within 5 days of order, returns are not normally accepted.
Products for Sale by Jims Chocolate Box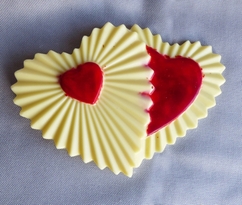 Price: £5.00
Delivery & Returns Policy
Double Heart hand-made with the finest Belgian Chocolate, an ideal gift for Valentines day, birthdays, anniversary, mothers day or any day to say thank you, I love you. This can be made with either White..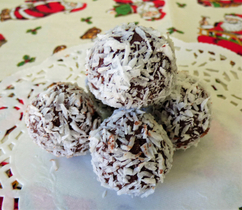 Price: £11.00
Delivery & Returns Policy
Chocolate on a Keto diet, yes you can. These hand made chocolate truffles are made using sugar-free (60% cacao solids) dark chocolate with almond butter, and then rolled in a variety of coatings. Each..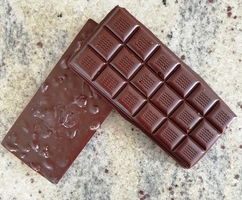 Price: £6.50
Delivery & Returns Policy
Treat the man in your life to one of these delicious rum and raisin bars. A treat of dark chocolate mixed with rum infused raisins. If you are lucky he might even share some with you. It can be collected..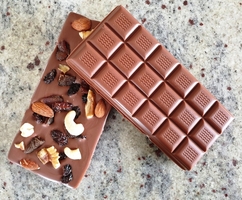 Price: £4.00
Delivery & Returns Policy
A nutty and fruity chocolate bar made with the finest Belgian chocolate topped with a selection of nuts and dried fruits. An ideal gift for Fathers day or any other day of celebration. This 15cm x 7cm..