Jack Daniel's barrel wood pens
Price: £25.00
Product Details
These pens have been made from an Oak whiskey barrel used by the
Jack Daniel's
Distillery. The barrels were used to age the whiskey over a 7 year period, the barrels are only used once.
COA with every pen
Delivery & Returns Policy
We will post same day if stock allows and will only except returns due to manufacturing or part failure
Products for Sale by Stok pens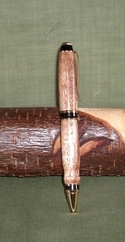 Price: £20.00
Delivery From: £0.00
Delivery & Returns Policy
Staffordshire & Worcestershire canal Hinksford lock pens are made from the Oak foot boards made surplus during recent lock re-fits January 2017 Get a real piece of history, each one unique.