Heart Jigsaw Can be Personalised
Price: £9.50
Product Details
Heart Jigsaw Which can be personalised Great for loved one or for Wedding Guest Book. Laser cut by us in Birch 3mm ply ( doubled on surround) Measures 25.5 x 20.5 cm x 6mm at the widest points.
Delivery & Returns Policy
Please contact us if you have a problem. We are here to resolve any issue that might arise.
Products for Sale by Crab Pot Models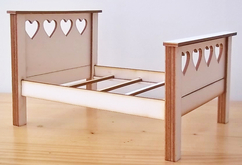 Price: £12.00
Delivery & Returns Policy
Supplied as a kit with easy to follow instructions. You will not find this from anyone else. This is designed and manufactured by us. Finished bed measures 6.5 inch (170mm) long 5 inch (125mm) wide 4..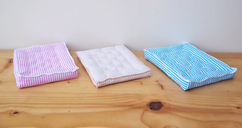 Price: £8.00
Delivery & Returns Policy
These hand sewn mattresses fit the bed kits or standard bought double beds. If you would like any other size contact me and I will make it just for you.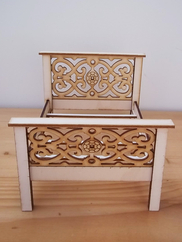 Price: £12.00
Delivery & Returns Policy
The Fret Bed Kit 1:12 Double This has been designed by us and laser cut. It is supplied with slats for the mattress. Easy to follow instructions. Supplied in bare wood ready for you to finish as desired..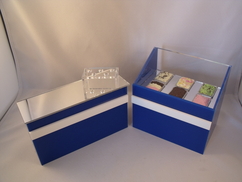 Price: £28.00
Delivery & Returns Policy
Ice Cream Display, Serving Counter & Cone Holder Designed and made by Puffin Design. Made in perspex with hand made ice creams. 1:12th. Available in any combination of White, Pink, Blue, Black or..