Handmade Large Wooden Rose Wreath - Choice of Colours
Price: £22.00
Product Details
Brand new large 10" handmade wooden rose wreaths. The wreath is made of green oasis foam. Lovely gift idea or a perfect Christmas home decoration . 100 roses in total on the wreath. Any colour rose All wreaths are made to order. Each order comes with a handmade white scalloped card for you too add your message too or I can write for you, just leave me a message when you checkout.

Wooden Rose Colour: Ivory Copper Tip, Bright Red, Ivory, Pink, Ivory Chocolate Tip, Ivory Blue Tip, Red / Black Tip, Light Coral, Aubergine, Dark Blue, Golden Brown, Pink With Purple Tips, Charcoal, Ivory Silver Tips, Ivory Blush Pink Tips, Hot Pink Purple Tip, Orange, Light Pink Purple Tip, Aqua, Black, Ivory Orange Tip, Lime Green with Dark Green Tip, Ivory Light Purple Tip, Dark Red, Bright Yellow with Copper Orange Tip, Bright Yellow with Green Tip, Dark Purple, Hot Pink, Light Purple with Blush Pink Tips, Ivory with Bright Pink Tips, Ivory with Light Pink Tips, Yellow with Red Tips, Light Peach, Light Blue with Dark Blue Tip, Light Purple, Pink with Dark Pink Tips.

Photos of Flowers are available on request.
Delivery & Returns Policy
14 days to return the item
buyer pays for return postage
Products for Sale by Kimzclassykreations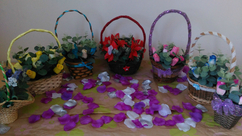 Price: £19.99
Delivery From: £0.00
Delivery & Returns Policy
Please include the following Colours/Types in the sellers message when you purchase this item. If you do not make any requests, a random Ribbon Colour, Silk Flower Type and Wooden Rose Colour will be..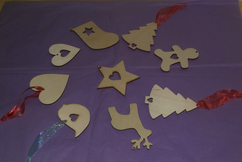 Price: £3.00
Delivery From: £0.00
Delivery & Returns Policy
Brand new hand cut wooden Christmas tree decorations. Comes as a seven piece set with organza ribbon hangers. Seven different shapes per order. The wooden decorations are plain wood so they can be painted..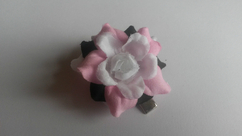 Price: £3.00
Delivery From: £0.00
Delivery & Returns Policy
Handmade mini silk flowers comes on a sliver plated crocodile claw clip. lots of colours to choose from.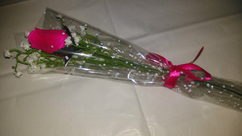 Price: £3.50
Delivery From: £0.00
Delivery & Returns Policy
Beautiful single wooden roses gift wrapped in clear cellophane with white polka dot pattern. Can be personalised. lots of different colour roses and ribbons. I make the single bouquet with white baby'..