Handmade Dragon Bead Box
Price: £35.00
Product Details


Dragon bead box. can be made in colours of your choice.
Delivery & Returns Policy
If there are any problems with this piece, please contact me in the first instance and I will try to resolve them for you.
However if all else fails and you are still not happy then you can return the item in its original packaging and I will give you a full refund.
I won't be able to refund your postage and packing costs - sorry, and you will be expected to pay return postage.
Please allow up to 21 days for delivery from placement of order, on artwork that is made to order.
If there are time delays due to low stock, or in busier periods, I will contact you with an expected delivery date. At this point you have the right to cancel your order if the timing is unsatisfactory and all payments will be refunded.
Products for Sale by PurpleHazeCraftyArts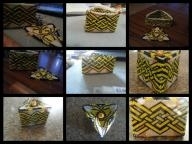 Price: £35.00
Delivery From: £5.00
Delivery & Returns Policy
Small Celtic design bead box. made to order so colours of choice. please allow time to make item.