Handmade Children's Teepee - 'Enchanted Garden'
Price: £96.00
Product Details
Step into Eversew's enchanted kingdom that rises up out of the ground where the bunting around the skirt resembles long swishing grass and the deep floral patterns are mixed and layered to add significant detail to the motifs. A touch of fairy dust, that sparkles in the sunshine provokes the magic of play to be discovered within.
 Motifs: Fairy, Unicorn, Deer, Squirrel, Birds, Butterflies and Mushrooms
 Colours: Deep greens reds and pinks
• A choice of high quality and sturdy personalised children's teepees from Eversew are designed to last for years, made from 100% cotton.
• Decorated with themed silhouette motifs in vibrant colour schemes and framed by three corresponding banners of bunting.
• Optional personalised kid's names or favourite inscriptions can be added onto the teepee. Please send us a message with the letters of the name and or inscription detail to receive a quote for the additional cost.
• Easily constructed by slipping the beech poles into five pockets between the panels, before spreading out. The poles being simply coupled and un-coupled in half for easy storage and carriage.
• Size approximately 1.4m high, the base is 1.2m by 1.2m.
Delivery & Returns Policy
Shipped within 5-7 days
No returns accepted
Products for Sale by EverSew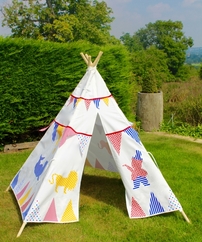 Price: £96.00
Delivery From: £5.20
Delivery & Returns Policy
Run away into the bright and colourful magic of Eversews Circus Teepee to explore the fascination with the derring do and timeless tom foolery of clowning around. Motifs: Ringmaster, Big Top, Juggling..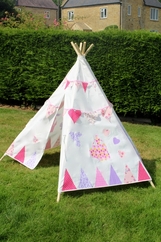 Price: £96.00
Delivery From: £5.20
Delivery & Returns Policy
Every wannabe princess will be transported into their fairy tale realm in this Eversews animated dream world. The creative passion for play that awaits is mirrored by the vibrant heart shaped bunting..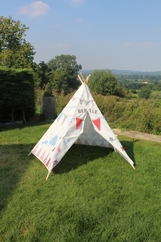 Price: £96.00
Delivery From: £5.20
Delivery & Returns Policy
Eversews original teepee, with classic childrens characters, in patchwork materials that have buttons for eyes. The silhouette shapes, that are clearly visible from the shady interior, allow the kids..
Price: £96.00
Delivery From: £5.20
Delivery & Returns Policy
Ready for an adventure? Eversews sturdy teepee is the perfect centre piece to stimulate the creative battles between goodies and baddies as little cowboys and Indians go on a journey to discover the..