Hand painted Gerbera sea glass jewellery set
Price: £17.95
Product Details
Hand painted Gerbera flowers pretty English sea glass necklace and earrings set. A lovely unique gift. Gold plated non tarnish wire and 18 inch black cord. Gold plated matching dangle earrings.
I'm happy to craft and paint this set with the flower of your choice.
Delivery & Returns Policy
Painted packed and posted the next working day after the order is received. 14 days return for any reason for full refund/ replacement. Thank you.
Products for Sale by She Paints Seaglass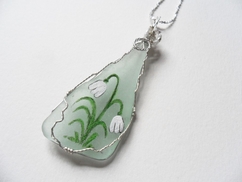 Price: £9.95
Delivery From: £0.00
Delivery & Returns Policy
Snowdrop wildflower necklace hand painted English sea glass 18" silver chain Unique, hand crafted necklace. Beautiful hand painted English genuine sea glass shard, with silver plated wire wrapping, Swarovski..