Hand painted Chimney style Vase
Price: £36.00
Product Details
A smart looking medium sized Chimney styled vase in tones of metallic gold, charcoal and black.
Recommended for indoor display - must not be filled or submerged in liquid / wipe clean only
Delivery & Returns Policy
I deliver in person so you have the option to change your mind with a full refund on delivery, thereafter I do not offer any refunds.
I think this is a fair option given the cost of my travel to deliver in person.
Products for Sale by andrew michael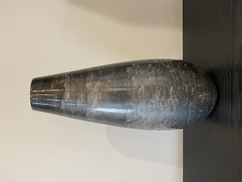 Price: £70.00
Delivery From: £0.00
Delivery & Returns Policy
A large vase, hand painted in tones of charcoal & pale slate to give an artist impression of the amazing sky during those winter months. Recommended for display indoors only and dry flower insertion..