hand crafted doll
Price: £49.99
Product Details
Hand crafted doll all clothes are hand made, faces are embroidered and hair is sewn on. 1.this doll has a green cotton dress which is covered in daisies. she has white broderie anglaise apron and pantaloons. 2.blue blouse, patterned dungarees and hat. 3. dark floral dress yellow pinafore and pantaloons. 4 white floral dress, blue broderie anglaise petticoat and pantaloons. They are 52cm tall. These are made as heirlooms for the future for that special someone rather than a toy. They are well stuffed so hold their shape when sat up.
adapted from designs by juanita clarke
Delivery & Returns Policy
Delivery is free of charge, any returns will be at the purchasers own cost. Any concerns please contact me prior to returning item to discuss solutions.
Products for Sale by Made in the shed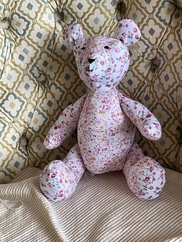 Price: £26.99
Delivery & Returns Policy
Memory bears made from clothes that mean something to you. Send me photo of the fabrics you wish to use and if suitable mail them to me. I will then make up the bear and send photo if you are happy with..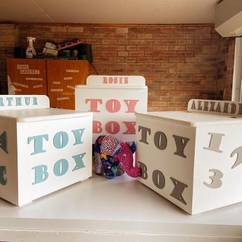 Price: £94.99
Delivery & Returns Policy
Each box is individually made decorated with lettering and numbers. personalised woth a name up to 9 letters