Gazebo Corner Brace - Price is for 2 Braces
Price: £42.50
Product Details
Attractive profiled corner brace for wooden gazebos. Manufactured from BS 4978 C16 construction timber. Price is for 2 braces. 3 styles to choose from.
It is recommended a wood preservative is applied to the braces prior to or after installation.
Delivery & Returns Policy
These are limited stock and generally made to order. Delivery is via Hermes 2/3 days tracked & signed for. Other carriers may be used.
P & P £5.50 1st pair and £3.25 for additional pairs (UK only excluding channel islands).
Please enquire for P & P costs for outside the UK send e-mail to: alanstyles@live.co.uk
Seller will accept returns within 30 days of purchase. Buyer will need to pay postage when returning items.
Products for Sale by Big Coasty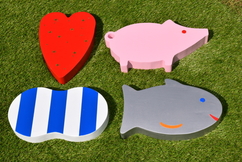 Price: £15.50
Delivery From: £5.50
Delivery & Returns Policy
***** BIG COASTY ***** ***** Idle Gift for any Occasion ***** Avoid unnecessary spills. See web site for further details - www.bigcoasty.net (type in URL address bar) The Pink Pig and Silver Fish..