Fused glass cufflinks
Price: £10.00
Product Details
Pair of metal cufflinks with black and silver dichroic glass cabochons like zebra print.Nice little present for the man in your life. Comes in burgundy gift box. Other shapes and styles available.
Delivery & Returns Policy
14 day return policy, buyer pays postage. If item is damaged or faulty please email me for a replacement or a refund.
Products for Sale by Macshack Artglass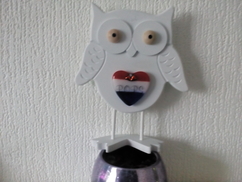 Price: £10.00
Delivery & Returns Policy
White wooden owl with a glass heart with "POPS" fused across the middle. Quirky little gift in red, white and blue, Glasgow rangers colours. Freestanding item with free post and packaging. Other owls..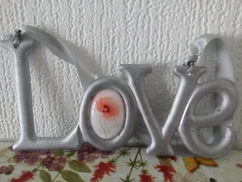 Price: £6.50
Delivery & Returns Policy
Metal plaque for hanging with the word HOME. Included in the letter "O" is a cute little glass cabochon with a ladybird, quirky little housewarming gift. Others available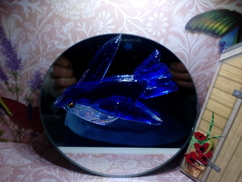 Price: £10.00
Delivery & Returns Policy
Small round mirror, approx 6" diameter featuring a fused glass bluebird flying. Bluebird has dichroic glass breast, hard to capture by camera, but a very nice effect. Mirror has a hook on back for hanging..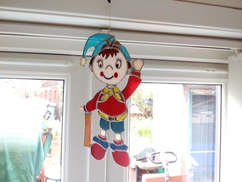 Price: £20.00
Delivery & Returns Policy
Large copperfoiled window decoration for boy or girls nursery or bedroom. Delightful noddy sun catcher in red,blue,yellow,brown glass. Comes ready to hang by hook, hook provided.