Football Wall Hook for Kids on Recycled Wood
Price: £8.99
Product Details
Football themed wall hook for kids made from recycled scaffold boards with two wooden drawer knobs decorated with football decals. These are hand painted in acrylics and can be tailored to any team's colours for any sport. The knobs for sports other than football will be hand painted or decorated with a decal depicting a piece of equipment used in that sport, e.g. a hockey stick or rugby ball.
Useful for kids' bedrooms to hang light school or toy bags, dressing gowns, sports equipment, lanyards, jewellery and more.
Size: 21.5cm x 5.7cm x 12.5cm.
We can add names or other text to these boards to personalise them.
Our recycled scaffold boards are hand painted and varnished by us. They have imperfections which we call character and we hope you agree.
These boards come with fixings to hang them on a nail on the wall.
Akasha Artisan offers handcrafted, Fair Trade, vintage, up-cycled and re-purposed products.
Delivery & Returns Policy
We accept returns within 14 days. The buyer must pay the cost of postage to return the item.
Products for Sale by Akasha Artisan

Price: £10.00
Delivery From: £1.90
Delivery & Returns Policy
This coat rack is hand painted in large, pink flowers on a recycled scaffold board using acrylic paints. It is finished with two Fair Trade door knobs for hanging coats, scarves, dog leads, aprons, utensils..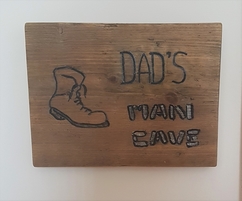 Price: £9.99
Delivery From: £1.90
Delivery & Returns Policy
This man cave sign is made from a cut down recycled scaffold board. It is handpainted in acrylic paint with a picture of a boot. The boot represents the hard work Dad's do, whether paid work or working..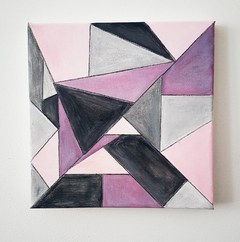 Price: £6.99
Delivery From: £1.90
Delivery & Returns Policy
A small, original abstract artwork that features a trendy geometric design in pink, purple and grey. The artwork is painted on a canvas frame and is hand painted in watercolours. This artwork's contemporary..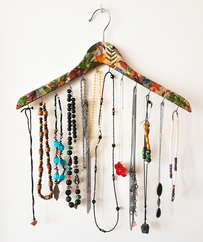 Price: £4.50
Delivery From: £1.90
Delivery & Returns Policy
This jewellery holder is made from a recycled coat hanger with a decoupage jungle design and 10 hooks. Keep your valuables together in one place with this simple but practical solution for small spaces..