Dried Lavender with Vase on Recycled Wood
Price: £10.00
Product Details
A hessian bag of dried lavender to freshen clothes drawers or to help you relax before sleep is attached to a glass vase. The vase is decorated with a sprig of artificial lavender tied with raffia and a purple spotted ribbon. This could be replaced with fresh lavender or fresh flowers.
The vase is attached to a recycled scaffold board by a recycled metal coat hanger which is wound around the neck of the vase and looped over a recycled nail.
This board has been left natural so it has a rustic look which makes a great contrast with the floral decoration.
We have used artificial lavender because we don't think real lavender would survive postage. If you replace it with real flowers or lavender, please reuse the artificial lavender sprigs rather than throw them away.
Size: 11cm x 12cm x 40cm
Our beautiful recycled scaffold boards are hand painted and varnished by us. They have imperfections which we call character and we hope you agree.
This item comes with fixings to hang it on a nail on the wall.
Akasha Artisan offers handcrafted, Fair Trade, vintage, up-cycled and re-purposed products.
Delivery & Returns Policy
We accept returns within 14 days. The buyer must pay the cost of postage to return the item.
Products for Sale by Akasha Artisan

Price: £10.00
Delivery From: £2.95
Delivery & Returns Policy
This coat rack is hand painted in large, pink flowers on a recycled scaffold board using acrylic paints. It is finished with two Fair Trade door knobs for hanging coats, scarves, dog leads, aprons, utensils..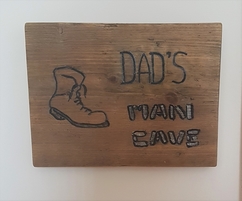 Price: £9.99
Delivery From: £2.95
Delivery & Returns Policy
This man cave sign is made from a cut down recycled scaffold board. It is handpainted in acrylic paint with a picture of a boot. The boot represents the hard work Dad's do, whether paid work or working..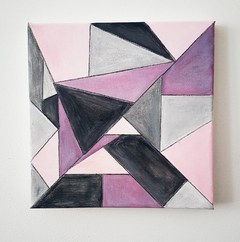 Price: £6.99
Delivery From: £2.95
Delivery & Returns Policy
A small, original abstract artwork that features a trendy geometric design in pink, purple and grey. The artwork is painted on a canvas frame and is hand painted in watercolours. This artwork's contemporary..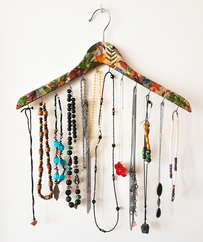 Price: £4.50
Delivery From: £2.95
Delivery & Returns Policy
This jewellery holder is made from a recycled coat hanger with a decoupage jungle design and 10 hooks. Keep your valuables together in one place with this simple but practical solution for small spaces..