Dotty Note Cards
Price: £4.50
Product Details
Zingy dotty note cards, blank for your thoughts and wishes.

Packaged in a white box, the white linen effect note cards (100mm x 100mm) feature zingy dotty backing paper, white linen effect card topper and finished with a zingy dotty punched star. A gemstone adds a touch of bling.

The box features the same zingy topper and the note cards come with matching white envelopes.

The pack will contain five different coloured note cards and could include: bright red, purple, bright yellow, orange, lime green, hot pink, lilac or bright blue.
Delivery & Returns Policy
Item will be dispatched within 3 working days.
Refund or return allowed within 14 days of receipt of item.(Any postage charges for returns is not refundable).
Products for Sale by Any Occasion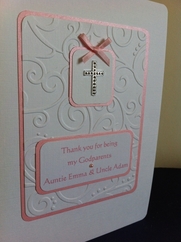 Price: £3.95
Delivery From: £2.25
Delivery & Returns Policy
A gorgeous & unique Thank You card for your Godparents. A5 in size, this white linen effect card features a stunning embossed topper finished with personalisation of your choice. The card is decorated..
Price: £16.00
Delivery From: £2.25
Delivery & Returns Policy
A unique and perfect gift for Christenings, Baptisms, Blessings or Naming Days. The gorgeous handmade album comes with matching presentation box covered with textured handmade mulberry paper. The guest..