Daddy One Day My Prince Will Come Plaque
Price: £9.00
Product Details
Daddy

One day my Prince will come but you will always be my KING

A lovely little gift for a very special dad .

Handmade wooden plaque.

10.5cms x 7cms approx

Plaques are all cream with black handwriting,

colour add through ribbon, embellishments etc

All of our plaques & signs are handmade in our home.
Delivery & Returns Policy
Order Timescales
Orders will be dispatched by Royal Mail Second Class signed for service within 7 working days of payment.
Postage & Packing ~ UK addresses.
postage and packing is calculated on checkout
P&P is free on all orders over £40.00
local pickup is available at no charge
Payment
Payment can be made through Paypal
Returns Policy
If you are not happy for any reason please let us know as soon as possible & return them to us, unused & in the original packaging for a replacement or refund. Postage & packing charges are not refundable.
Personalised Items can only be returned where 'bloominfab' have made a mistake with the order.
Products for Sale by bloominfab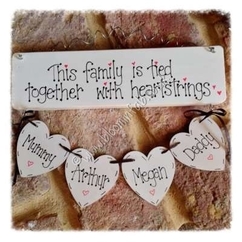 Price: £21.00
Delivery From: £5.00
Delivery & Returns Policy
quot;This Family is tied together with heartstrings " is the lovely way to show how in love families are. Also a perfect gift for a special family you know! The sign is personalised with the names..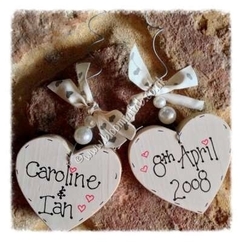 Price: £16.00
Delivery From: £5.00
Delivery & Returns Policy
Personalised Wedding Hearts £16.00 These personalised wedding hearts feature the name of the couple and the date of their wedding. With ribbon bows and pearls these are very sweet reminders..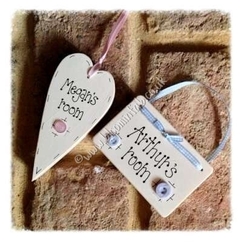 Price: £9.00
Delivery From: £5.00
Delivery & Returns Policy
Handmade wooden personalised bedroom door sign. Ideal gift for birth, christening, birthday or party gift All plaques are handmade and handwritten. Colour is added through ribbon, embellishment etc..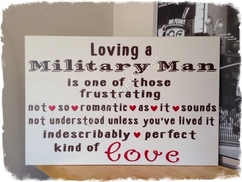 Price: £25.00
Delivery From: £5.00
Delivery & Returns Policy
Is your guy in the Military? a sign to sum up what it really means to love your Military Man Can also be changed to loving a Military Woman Handmade wooden sign 400mm x 600mm x 9mm approx Sign is..