couldbegifts
Contact: Wendy Roberts
Counties: Dorset, Hampshire
Contact Number: 07513955348
Product Types
Gifts, Fabric Items, Handmade & Handcrafted, Seasonal/Special Occasion
Company Overview
My passion for the homemade option, well as my skills and time allows led me to offer some of my products for sale - primarily fabric based although that may change as time passes and a few random non fabric items to test the water!. I offer a custom made service as well as some one off's and keeping a stock for direct purchase, craft fairs and the like. Everything is made by me at home from new and upcycled materials. each item is identified as new or upcycled . I have been trading since November 2015. I have chosen to class my products as gifts but many could easily be a personal purchase.
I am retired but I like to be busy - selling is a bonus which enables me to continue making!
Products & Services
I offer a range of items for that unusual gift or packaging solution.
Aprons, cushions, handy shopper, reversible tote bags, drawstring backbag, water bottle carriers, doggy pooh bag carriers, bunting, car seat/shoulder strap comfies, dribble bibs, covered notebooks /diaries, bookmarks/page markers, vase/jamjar sleeves,picnic items,snack bags, table accessories -and more !!
Gifts bags, bottle bags, mini keyring bags, pencil cases and more!
I also offer a service to make beach hut or caravan curtains.
I have an idea to upcycle bedding,curtains,a favourite garment into something new - your suggestions or mine - already I have made baby things from duvet set ,cushions shopping bag and aprons too. I have made a baby dress from a top and sweatshirt . I am making a shirt into dungerees - grandad to grandson! I am open to suggestions!
Company Profile
I am a retired Teacher - hobbies play a huge part in our lives !
We are always doing! We like everything that is Homemade and Handcrafted.
Our dog keeps us active and fit.
New Products
Custom made bunting for all occasions! look on facebook to see further details! you choose the fabric -suggest what you would like and I will source it - or if local you can provide the material(recycled can be used) 1/2 metre x140cm wide will make 12 flags approx 18cm deep 3m long. @ £10 (your fabric £6) multiple orders at a lower rate!!

couldbegifts are attending:
Products for Sale by couldbegifts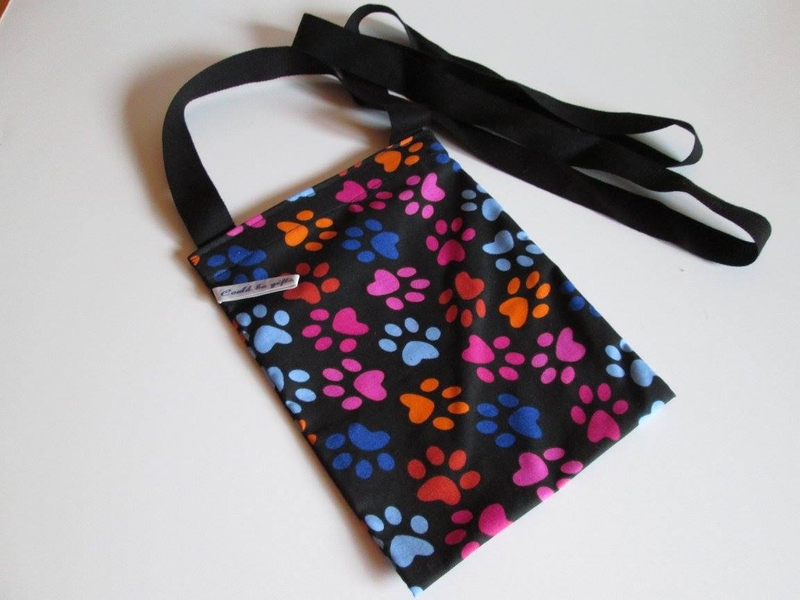 Doggy Pooh Bag Carrier
Price: £4.50
Delivery: £0.00
Delivery & Returns Policy
An over the shoulder bag with Velcro closure perfect for carrying the pooh bags and the collected business until you find a bin or get home! We have used one for more than 5 years now! lightweight, washable,durable.
Christmas Cotton Fabric Bunting
Price: £8.00
Delivery: £1.00
Delivery & Returns Policy
Three different patterned cotton fabric bunting approx 2/3 metres long, 20cm deep flags can be bought separately . £8 each (3 for £20). Please email me using the massage board below with your requirements.