Coconut and Vanilla Soy Wax Candle
Price: £14.50
Product Details
Coconut and Vanilla ~ Wooden Wick or Cotton Wick ~ Soy Wax Candle ~ Reusable Coconut Bowl or 30% off refills⁓ Vegan
Coconut and Vanilla Soy Candle in reusable Coconut Bowl.
Refills for 30% off! Just send it back and receive a new candle.
Handmade UK.
Please be aware that each bowl is of complete natural material so they will all be slightly different shapes and sizes.
Coconut bowls by Jungle Culture are ethically sourced in Vietnam. Once your Candle is finished, either send it back for a refill which will get you a new candle for 30% off OR use your bowl for serving Ice Cream, Yoghurts, Salads, Noodles and any other cold foods!
All product information is available on my website, please look for the page 'About'
No information will be delivered with your orders, this is to save waste!
Please choose which Wick you would prefer.
If you would like any personalisation please message me :)
Delivery & Returns Policy
Buyers are responsible for any customs and import taxes that may apply. I'm not responsible for delays due to customs.
Products for Sale by Store Vegan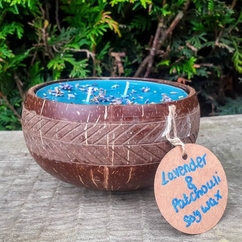 Price: £14.50
Delivery From: £2.95
Delivery & Returns Policy
Lavender and Patchouli ~ Wooden Wick or Cotton Wick ~ Soy Wax Candle ~ Reusable Coconut Bowl or 30% off refills ~ Vegan Lavender and Patchouli Soy Wax Candle in reusable Coconut Bowl. Hand made UK...