Children's Clothes Hooks - Animal Skittles
Price: £20.00
Product Details
Hooks ideal for children's bedroom
Mounted on reclaimed wood back board
The skittles have previously been used so therefore may show signs of use, small dents, scratches etc.
They have been glued and screwed to make as secure as possible, but would not necessary recommend anything with too much weight be hung on them.
72.5cm long
10cm high
2cm thick back board
approx 13cm from the wall
Will post via Hermes 3-5 day tracked service
Delivery & Returns Policy
If the product is damaged or not what you ordered please contact us via email, to resolve the issue. If you just wish to cancel the order you may return it for a full refund, the purchaser is to cover return postage cost. You must do this within 7 days of receipt as long as the item has not been used and is still in the perfect condition that it left us. Please inform us immediately by email if you wish to return an item or cancel the order.
If you want to cancel your order and the goods have not yet been dispatched, the refund will be made immediately. If the order has already left our premises, the refund will be made when the goods are received back by us in their original condition.
The safety of the product and return postage costs are the responsibility of the purchaser.
Products for Sale by tree2you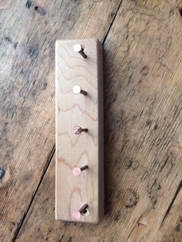 Price: £8.50
Delivery From: £6.50
Delivery & Returns Policy
Handmade using reclaimed maple wood key rack using 5 Copper boat nails, the centre nail has X feature The wood has been sanded and several coats of wax applied 20cm in length 5cm wide 3cm thick Sizes..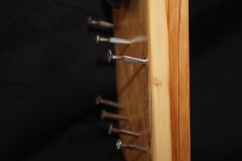 Price: £16.00
Delivery From: £6.50
Delivery & Returns Policy
Upcycled horseshoe mounted on reclaimed wood Horseshoe nails for hanging keys, jewellery etc 33cm high 16cm across backboard 2.5cm deep As the wood is reclaimed - any signs of woodworm will have..