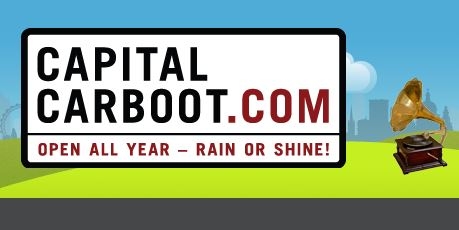 Ideal Stallholders for this event
Antiques & Furniture
Art & Design
Bath & Body
Beauty
Books
Candles and Wax Melts
Ceramics and Pottery
Clothing and Shoes
Fabric Items
Garden & Outdoors
Gifts
Glass & Mosaic
Hair Accessories & Millinery
Handbags and Accessories
Handmade & Handcrafted
Home Decor
Jewellery
Leather
Music & Entertainment
Photography
Preloved
Recycled, Ethical, Fair Trade & Organic
Shabby Chic
Toys and Games
Vintage

Capital Carboot Pimlico London
Date:
14/01/2018
Venue:
The Pimlico Academy
Address:
Lupus Street (Chichester St Entrance)
Pimlico
London
Greater London
SW1V 3AT

| | |
| --- | --- |
| Event Organiser: | Capital Carboot |
| Organiser Contact: | Faye Marriott |
| Contact Number: | 08450943871 |
| Number of Stalls: | 80 |
Customer Arrival Time: 10:30
Customer Departure Time: 14:30
Admission Price: 1-£5
Stallholder Arrival Time: 08:30
Stallholder Departure Time: 14:30
Cost of Stall: £7 to £35
Event Type
Car Boot & Table Top Sales
Event Details
All pitches must be booked in advance, and you will be given a time slot to arrive for your pitch-we stagger this so that you don't have to queue.
If you need to hire a table we can do that too! All you need to do is have a good clear out to make some cash, or to make room for your new things!
Every Sunday — (except Easter, Christmas and New Year - please check availability during these times). Indoor space holders should arrive at 9:30am if coming in a vehicle to unload. Unloading vehicles will not be allowed on site after 10:00am, outdoor space holders without vehicles should arrive 10:15am, outdoor space holders with vehicles to remain in the sale should arrive 10:45am.
Early bird buyers entry is 10:15am (£5)
Public entry is 11:30am until 2:30pm (£1)
www.capitalcarboot.com
Car Parking Information
WHERE? Pimlico Academy Chichester Street entrance Lupus Street, London, SW1V 3AT Nearest tubes and trains Pimlico (2 mins walk) and Victoria (5 mins walk). Bus routes 360, C10, 24, 2, 36, 185, 436 Coming by bike? No problem - there's a "Boris Bike" docking station right next to us on St George's Square, or chain up your bike on site. Capital Carboot strongly advises buyers to use public transport when attending, parking is limited in the surrounding areas and a priority for local residents.