Black Rose Wooden Haircomb
Price: £6.50
Product Details
This hand made wooden haircomb has a black rose on one side and will really set off that hair up look.

The item is made from Sapele and varnished for a long lasting finish, the size is 10cm x 4.5cm
Delivery & Returns Policy
Delivery will be by royal mail, you must notify us of any damage to your item imediately.
Products for Sale by Love Me Timber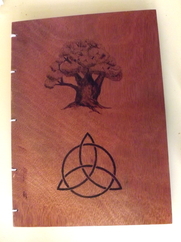 Price: £50.00
Delivery From: £1.70
Delivery & Returns Policy
This hand made wooden A4 book has 100 80g textured off white pages, that has been hand bound to create this versatile book. You can use it for notes,diary, photo album, craft book and much more. The..