Bespoke Aperture Cards
Price: £1.50
Product Details
Choose any 5 aperture cards with matching envelopes. Cards can be cut to your specifications with any pattern you require, subject to copyright. Designs shown are Christmas Tree, Star, Snowflake, Heart and Bird Border. This is a small selection so please contact us with your requirements.
Delivery & Returns Policy
Products where the packaging seal has not been broken can be returned within 14 days. Buyer is responsible for return postage costs.
Products for Sale by Tea with Jam
Price: £1.00
Delivery From: £0.50
Delivery & Returns Policy
Choose any 10 designs. Create your own wording. Please contact us with your specific requirements. All designs are subject to copyright law. Designs shown are Star, Snowflake, Christmas Tree, Heart, Bird..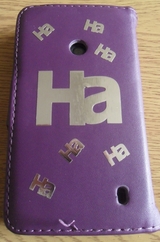 Price: £2.00
Delivery From: £0.50
Delivery & Returns Policy
We can create your own bespoke pattern or lettering to affix to your mobile phone or games console, etc. All patterns are cut from self adhesive vinyl and are subject to copyright laws. Please contact..