Beautiful Personalised Godparents Thank You Card
Price: £3.95
Product Details
A gorgeous & unique Thank You card for your Godparents.

A5 in size, this white linen effect card features a stunning embossed topper finished with personalisation of your choice. The card is decorated with a silver card cross and comes packaged in a cellophane bag with matching white envelope..

Available in pink or blue. Please state colour and wording required when ordering. A "proof" will then be emailed to you for approval.
Delivery & Returns Policy
Item will be despatched within 3 working days but is dependent on confirmation that the personalisation is correct.
No refunds or returns allowed as this is a personalised item.
Products for Sale by Any Occasion
Price: £16.00
Delivery From: £1.20
Delivery & Returns Policy
A unique and perfect gift for Christenings, Baptisms, Blessings or Naming Days. The gorgeous handmade album comes with matching presentation box covered with textured handmade mulberry paper. The guest..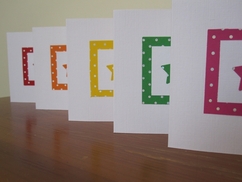 Price: £4.50
Delivery From: £1.20
Delivery & Returns Policy
Zingy dotty note cards, blank for your thoughts and wishes. Packaged in a white box, the white linen effect note cards (100mm x 100mm) feature zingy dotty backing paper, white linen effect card topper..