Azure Mosaics Kits
Price: £10.00
Product Details
My Mosaic Kits come complete with everything you would need to create your own kit. Shape, PVA glue, grout, brush and full step by step instructions. I have many options including animals, flowers, coasters, and much more. I have just added my new Christmas kits that were so popular last year the children love them !
My Bird Baths can be made of any colours of choice and are extremely well sealed, they come in 24cm and 28 cm circumference.
My new product this year is number plaques and can be ordered in any colour and design, a great Christmas gift !
The kits are £10.00 each, Bird Baths £50.00 and Number Plaques from £50.00 .
For more choice please see my etsy pagewww.etsy.com/uk/shop/azuremosaics
Delivery & Returns Policy
Please contact me should you have a problem with any item but I am more than happy to refund or replace any item that you are not happy with.
Products for Sale by Azure Mosaics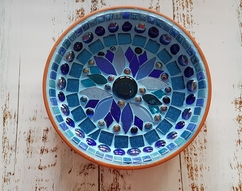 Price: £50.00
Delivery From: £3.50
Delivery & Returns Policy
Beautiful Mosaic Bird Bath that the Birds and Bees will love ! The birds will love splashing around in this glittering Bird Bath. Handmade by me, this bath is made from terracotta, tile and glass...