Athena Glass wedding tiara
Price: £90.00
Product Details
Beautiful Bohemia glass wedding tiara. Consists of Aurora Borealis glass beads, iridescent glass leaf beads, clear diamante stones. Silver colored wire stems, set with Japanese glass delica beads shaped into petals. Hoops at the ends for easy attachment. Can be worn with or without a veil. So light and flexible is this tiara, it can be worn all day and night. I have made this particular tiara in other colors and metal bases.
Delivery & Returns Policy
I'm sure you will be delighted with your purchase. If you are not happy with your purchase, you may of course return the item within 14 days. Once your item has been returned, you will be given a refund.
Products for Sale by Allesandra Gothic weddings & Jewellery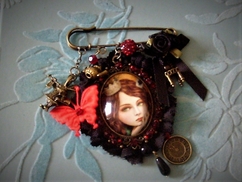 Price: £25.00
Delivery From: £4.99
Delivery & Returns Policy
Beautiful Alice in Wonderland brooch. Glass cabochon picture of Alice, surrounded by rabbit, chair, teacup and clock. Adorned on the black lace, are red glass beads, a red Shambala bead, a black drop..