Ambient colour changing illuminated light frames.
Price: £25.00
Product Details
These beautiful, ambient, colour changing pieces of framed art would look amazing in any home. Select an individual colour or have the light colour changing. Select the mode and speed to create different illuminated effects. These products are battery powered (3 x AA battery required)
Choose your image or wording and we will create a bespoke piece for you. Alternatively, select from our popular range (gymnast, horse, owl, nativity)
Delivery & Returns Policy
Delivery usually within 5-7 working days.
Returns only accepted if product faulty. Please photograph fault prior to returning item.
Products for Sale by Buntingnbits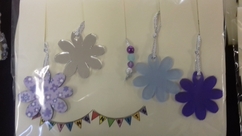 Price: £13.00
Delivery & Returns Policy
This attractive mini bunting/garland will look beautiful in your home or make an amazing gift. It is approximately 120cm long and made from Perspex and mdf. Loops at either end make it easy to hang.Please..