3-tier Small Cake
Price: £50.00
Product Details
Small 3-tier cake created from one folded book. Decorated to suit any occasion - wedding, birthday, anniversary, etc. Can be customised to customer specifications regarding colours, occasion, etc. Cake topper can also be purchased to suit occasion. Images show golden wedding anniversary cake, porcelain wedding anniversary cake, and general wedding cake.
Items made to order and despatched within a week, depending on design and decoration.
Delivery & Returns Policy
Item despatched promptly. If customer is not satisfied with item then it can be returned at customer's expense and a refund issued, excluding P+P costs.
Products for Sale by Manchester Paper Crafts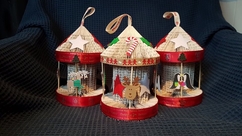 Price: £25.00
Delivery From: £5.00
Delivery & Returns Policy
Created from a single folded book, the carousel can be decorated and personalised to suit any occasion (Christmas, Easter, birthdays, christening, etc). Handmade to order, colours and design can be discussed..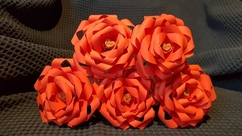 Price: £2.00
Delivery From: £5.00
Delivery & Returns Policy
Flowers handmade from coloured paper and pages of old books. Designs include roses, kusadami and calla lilies. Colours and paper designs can be discussed and changed to customer specification and occasion..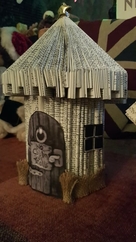 Price: £20.00
Delivery From: £5.00
Delivery & Returns Policy
Created from a single folded book, the troll house is made to order and can be customised to customer specifications