10.5 cm Handmade Olive Wood Holding Cross
Price: £4.00
Product Details
This is a single olive wood holding cross, handmade by skilled Palestinian Christian craftsmen in the Bethlehem suburb of Beit Sahour. It was sourced through a local WFTO fair trade wholesaler, and I set my prices to just cover my overall costs, so that as much as possible gets back to the people who made it.
It is designed, as you can see, to fit comfortably in an adult hand, with rounded edges and an offset crossbeam. While each item is individual, and the grain in the wood will vary from one cross to another, each one is about 10.5cm long, 6cm wide and 1cm in thickness (3.5"x2.5"x0.5") . I only wish I could let you hold it yourself, as you would understand why so many people have found them a great comfort and aid to prayer!
You can also buy a box of 10 at a reduced price - see separate listing
Delivery & Returns Policy
Return undamaged for any reason, at your own cost, within 14 days of posting for a complete refund of cost excluding postage charge. Statutory rights unaffected.
Products for Sale by Made in Bethlehem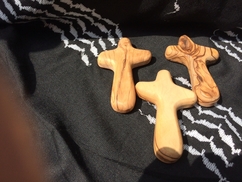 Price: £35.00
Delivery From: £2.00
Delivery & Returns Policy
This is a box of ten olive wood holding crosses, intended for church ministers or fair trade stalls. If you want an individual cross, please see our other listing. Each cross was handmade by skilled..